About 15 years ago we remodeled a bathroom with gray fixtures. I remember the job well because it was a simple modern look and classy. I wondered why we weren't changing out things to beige or white – but when we were complete, it was unique and beautiful even though it bucked the beige trend.
I've heard if you wait long enough that old style will come back in style like bell bottom jeans, the Volkswagen Beetle and even vinyl albums. So it holds true, gray is back and it proves to be a classic choice along with pure white and creamy beige. Today (2016) gray has taken another turn in design and has become warmer with brown/tan undertones and less blue. The photo, "Painted Oak Cabinets", shows oak cabinets painted with a subway splash tile and medium colored granite.
Here's an important question, "should you decorate your home in the newer gray and white theme or should you (continue) with the beige/cream theme that it is now?" If you have already invested in most of your home being updated and you are happy with it and most of the design is in the cream color, then I would say stay with that design. You could infuse a little gray by selecting the warmer gray of today that has tan blended into it. However, if you are in love with today's gray colors then consider doing one room at a time and begin the transformation to the gray theme.
Undertone – a color seen through and modifying another color and the colors that you notice that make the predominant color trend toward a second color. Off white could have a green undertone or a rose undertone, ultimately these undertones determine the color you are seeing. Likewise, gray has undertones, making it a challenge when matching one gray item to another. For instance you might have a gray colored plank tile you like but when you put a gray colored vanity next to it the colors are off or clash. Undertones in the cabinet color could be making the miss-match so it takes practice and a good eye to match up these undertones. Really what you are doing is not matching the grays but you are matching the undertones and if done correctly the outcome will look blended and all of the items, the paint, tile and cabinetry will complement each other. When selecting a wall paint color to join two gray colors that have different undertones, you will find it almost impossible to select a gray wall color that works with both of the other grays. In this case, select a wall color that isn't gray such as the green in the photo below the joins the gray wall tile with tan undertones and the gray counter with blue undertones.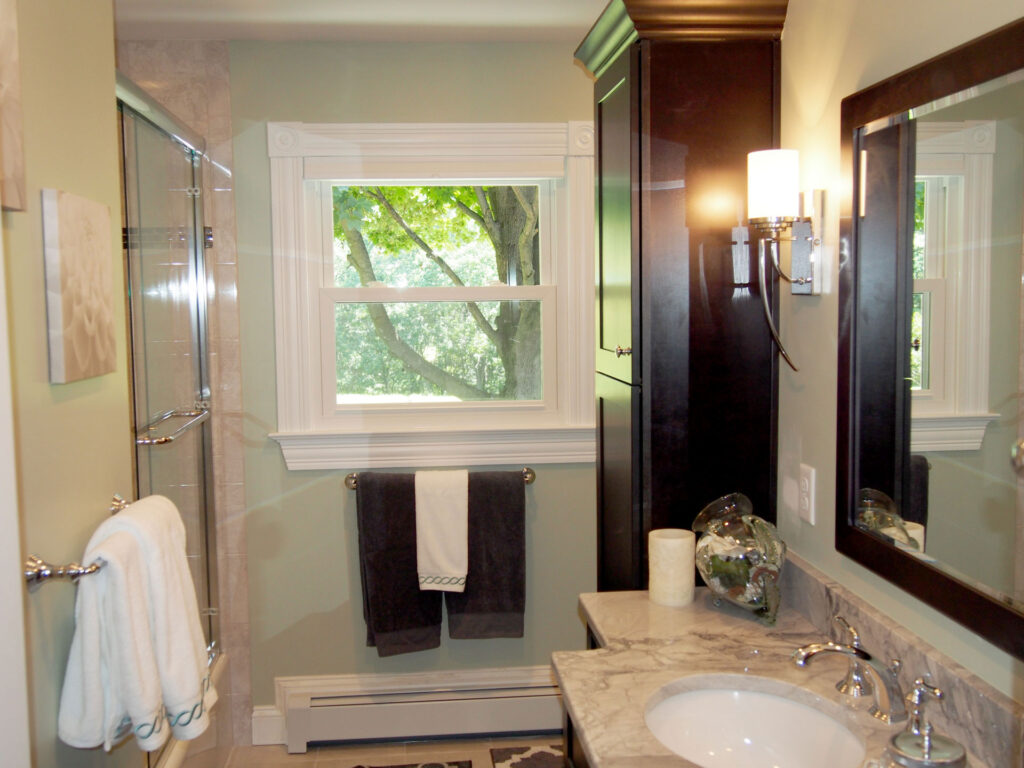 The new gray is here to stay for awhile and even though it was once thought of as gloomy and gray skies, proves to be fresh, warm and transitional. Here are a few popular paint colors that we enjoy using as we put the final touches on our painting and remodeling projects: BM Edgecombe Gray, BM Revere Pewter, BM Tapestry Beige and BM Muslim. At Paint Perfect not only do we strive to technically prepare and paint your space with expertise but we will also work to create that perfect color just for you!